Monsun 31 electrical system
The electrical system in most Monsuns has most likely been changed and improved extensively since the days they were built. Todays advanced engineering technology has made it possible to add a vast amount of gadgets to the common boaters baby. Here is a description of the original wiring system and the changes made to it for Monsun Isabell.
The original Monsun electrical wiring diagram
The basic wiring scheme for the Monsun encompasses two 12V lead-acid type batteries, one for the starter engine, and the other one for running lights, refridgerator and radioset (the house unit).
Open original wiring diagram in new window (PDF 247 kB)
The standard Monsun was not fitted with any other electrical instrumentation. In the picture with the old panel you can see what the buttons where for in the original panels.
Additional electronics in a Monsun today
The most common additional electronics in a Monsun of todays standards are:
stereo radio-CD-player
computer
com-radio VHF
autopilot
heater
signal horn
GPS, plotter, depth sounder, wind instrument
230V land-based power unit with outlets
The less common optional electronics in a Monsun of todays standards are:
radar
TV-set ♠
electrical bilge pump ♠
pressurized water system
Windlass (anchor winch)
AIS, Navtex ♠, short-wave radio set ♠
And then there are several ways to provide electricity, of which the following are available:
standard engine driven generator*
solar panels
wind generator ♠
towed water generator ♠
Land-based power battery charger 230V
gasoline driven power generator
*=the loading capacity of the generator can be improved by adding a generator-charger to battery-charger unit
♠ = this item is not available on Isabell
The electrical wiring diagram of Isabell
During the years many additions and changes have been made to the electrical system inside Isabell. Here is an overview of the present situation.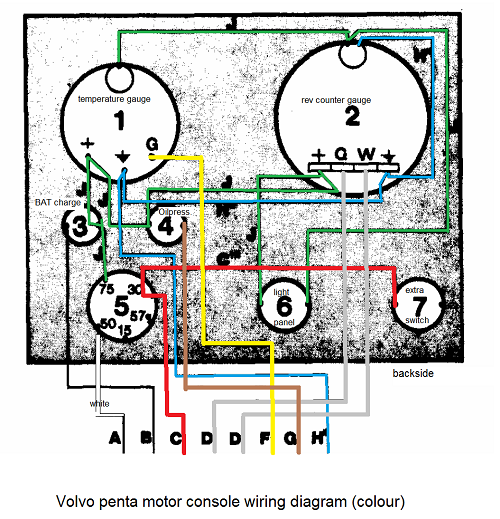 Here is the original Volvo-Penta motoring console for sailboats with the wiring diagram set in different colours.
Due to the increasing usage of electrical instrumentation and devices on board, many Monsuns have added battery power to the house battery bank. Isabell has 3 lead-acid 80 Ah batteries in the house bank (sum of 240 Ah), and one lead-acid (70 Ah) starter battery.
The starter battery and one in-house battery are placed in the storage under the seat of the navigation space. Two other in-house batteries are placed in the starboard side storage box. All three in house batteries are connected in parallel by 35mm² red (+) and black (-) copper cables.
Open Isabells wiring diagram in new window (PDF 0.6 Mb)
Isabell is fitted with a Schøller (Denmark) shore power unit with two 10 A fuses, galvanic isolator, and integrated surge protection at 30 mA. It is fed by one shore power inlet in the cockpit, and is connected to 230 V power outlets inside Isabell and to the AC power battery charger unit.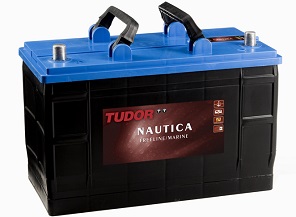 The starter battery in SY Isabell a simple lead-acid type marine battery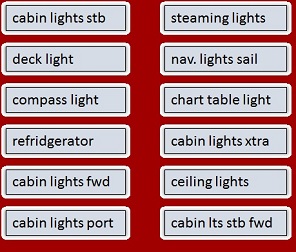 The original control panel fitted at the navigation desk of the Monsuns had the buttons as shown above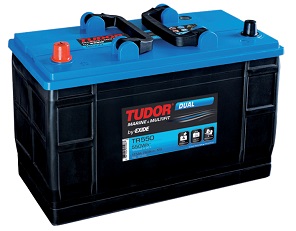 The three house batteries are of the dual type lead-acid at 80Ah each, connected in parallel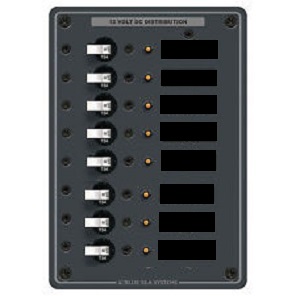 The Blue Sea Systems control panel on board of Isabell at the navigation desk