Suntop bimini
The bimini top that I got when I bought Isabell was homemade and could only be used when in port or at anchorages. It was too low to be able to stand up straight under it. So the plan has been to design a new bimini top that was larger and higher. In the drawings on the left you can see the results of the plan. Thank you, some other Monsun owners for the tips.
The bimini on SY Isabell
Sizes for the standing anodized aluminum round tubing are an outer diameter of 25mm and an inner diameter of 22mm. Thus the tubing can be connected using a 22mm outer diameter aluminium tubing piece, that fits perfectly inside the outer 25mm tube. I left the ends of these 22mm bits sticking out 80mm from the outer tubes.
The tubes of the two (2) bows are connected with 25mm nylon connectors with stainless bolts and nuts.
The cloth had to be re-designed to suit around the backstay. I made a cut in the back compartment, toward bow and stern in the center for the backstay. Then attached a short (25 cm) zipper toward the stern. This enables me to remove and set the bimini without loosening the backstay wire.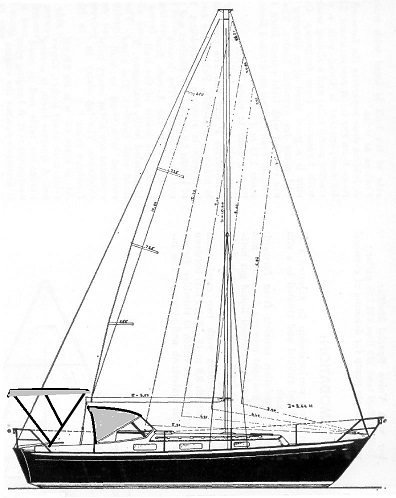 The side profile of SY Isabell to show the approximate size of the bimini and sprayhood.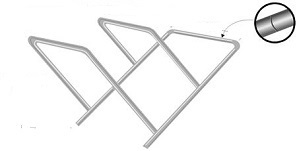 The bimini top frame was pre-designed in this shape, with three bows and every corner with a radius of 150 mm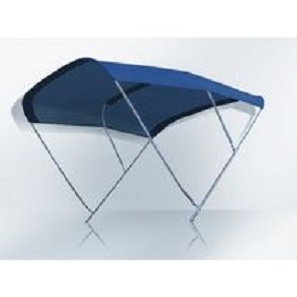 This is the actual look of the first bimini top on SY Isabell, before it was installed across the cockpit. It was later changed into a two bow bimini and attached on the outer sides of the cockpit combing to allow for it to stay when the cockpit cover tent is up as well.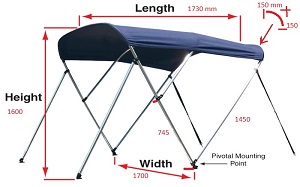 And here are the main dimensions in millimeters, big and very comfortable when the sun boils down or when it rains. The second design was wider (2070 mm) and only has two bows.