From Stockholm to Poland 2017
Leaving Stockholm on July 30, 2017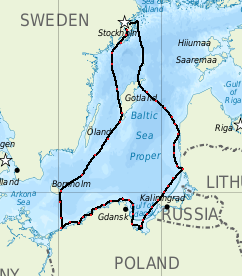 The original plan was to sail down to the islands of Gotland (SE), Bornholm (DK), to Polish coastal harbours, to Klaipeda (LT) and back to Stockholm. As shown in the map on this picture. Our trip started from Bullandö Marina on Sunday July 30th. The wind blew from the south and was very unstable. We started with one reef in the main. What we did not know then was that we would be reefing down most of the trip. Winds varied from storm down to stiltje during the whole tour. Our first night on board was spent at an anchorage at Braka island in the Stockholm archipelago. We are on our way!
Preliminary harbours we will visit are Burgsvik on Gotland, then Svaneke and Nexø on Bornholms eastern coast, from there we sail to Poland, town of Kolobrzeg, on to Darlowo, then Ustka, Leba, Wladyslawowo, Hel, Gdynia, and Gdansk. Somewhere along the way we are meeting up with family who are out roaming the Polish coast with a camper. From Gdansk we will try and sail north by northeast to the port of Klaipeda in Lithuania. From there we either sail home via Gotland (Fårön) or via Latvian ports. We will see where the wind blows once we get there.
Anchorage at Gotska Sandön July 31, 2017
During the evening the wind is picking up and we are slowly getting used to the rough sea and beating into the wind with reefed main and small staysail. Therefore, we decide to tuck in on the leeward side of Gotska Sandön which does not have any jetties. But there is a sandy, deep inlet on the northeastern point of the island, at Kyrkviken. We find it in the dark, partly with the help of our AIS monitor that shows other boats already anchored there. Here we get a good nights rest after 88 NM of tacking.
Beating our way to Fårön August 1st
And we are on our way bright and early in the morning. At daylight the anchor comes up and we sail east around the island of Gotska Sandön. The wind is still south southwest, pest. As we come around the southeastern tip the wind dies down and heavy rainclouds are ahead. We try to motorsail as far west as we can get and most of the storm goes past us in the east. Thankful for that, we sail south by southwest, meaning we are still hauling close. Understandable as to why, we are quite alone on the sea. Late in the evening we reach our destination, the harbour of Lauterhorn. Press in Isabell at the nock of one of the jetties. It is crowded, but we are happy to find a spot. Raining all night, we are glad to have a roof over our heads and get a good nights sleep.
Gotland, here we come
In the morning we visit the little library where sailors can exchange books free of charge. I had a bunch of pocket books aboard, that are now in the library shelves. And we took a few new books to spend some time on reading. After breakfast we cast off, and use the sanitary pump in harbour to clean out our septic tank. Then we are ready to go. We sail down to Gotland on the 2nd of August. Wind is from the southeast. First about 15 knots wind, and as we go along, it starts gusting between 15 and 25 knots. When we are crossing the mouth of a large inlet to the town of Kappelshamn, the wind picks up to gushes of over 30 knots (max 34). We put a second reef in the mainsail and continue south. But it is getting rougher and rougher on the sea surface. So we head into the bay and continue to beat down to the town of Kappelshamn. We find the harbour in the afternoon and decide to stay. Only a few boats here. Lucky, because it is a small harbour with only a few places for visiting boats. Still, the harbour is so shallow that we have to moor on the outside of a big german Hallberg Rassy. The older couple in the HR do not mind. They are also hiding from the big winds and are a bit stressed about the weather during the coming week. Not good news, since we are going the same way as they are.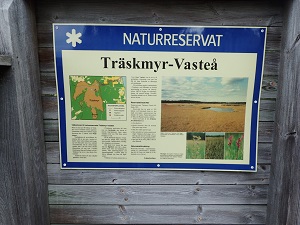 The next day, the wind situation has not improved, so we decide to stay and wander about a bit. First we wander to the bird sanctuary east of town. Find it, and climb the watchtower to see all the birds. We do not see any. They must be hiding for the weather. Sign the guestbook and continue our tour of the town. We walk along the main road westward and finally come to the bakery shop that sells fresh buns. We buy a few and head back to the harbour. The sun has come out but it is still mighty windy. So we decide to follow the pebble beach along the southern edge of the high cliffs that go southwest from the town. We walk a few miles and find many fossilized stones. Eat our bread and drink coffee behind an old fishing shed, and then return to Isabell in time for dinner.
It is now Friday, the 4th of August. We have seen all there is to see, and are going to sail on. We cast off already at 0630 AM. At first sailing is fine, since we are in lew of the land-tongue that we have to come around. But we have one reef in the main and sail with tacking foresail up. As we come around the corner, we have two reeds in the main and reduced foresail even more. And the waves are higher that 3 meters (over 10 ft)and relatively short. Tough going, but we are slowly moving in on our next target, the small fishing village of Lickershamn. We can see it ahead almost the whole time, but beating is going slowly. We get into harbour and are tied up around midday. It feels like we have been at sea for three days, but actually it was not more than five and a half hours. This place is more lively that the former was. So here we can sit and wait out the weather.
Lickershamn, sheltered for low depression high winds
So here we are, behind the sea-wall of Lickershamn, a nice and tourist friendly fishing village with a well protected harbour. Only a stone throw away is Gotlands highest rauk (rock pile), the Virgin Stone. We have a place where they sell smoked fish in the harbour. What a feast. It is mostly sunny, but extremely windy, even in the rather sheltered bay around Lickershamn.
From here we wander the coastline both south and northeast. Beautiful! On the land-side of the town are several iron age settlements still visible in the landscape. When we arrive at the next village north of Lickershamn we find that the local restaurant on the beach just burned to the ground. It looks horrible. Now they serve food from a big tent set up next to a pile of black rubble on the beach.
Saturday we wandered the coast, and Sunday we get up early to take the buss into the major city of Visby, about 40 minutes away. It is Medieval Week, a very enjoyable arrangement in the walled city. We have a great day. Monday we wander some more. Then the wind becomes a bit less and we decide to continue south on Tuesday.
Visby again, this time by boat
On Tuesday, 8 August, we sail away from Lickershamn early in the morning and have decided to try and make it to the industrial harbour of Klintehamn along the western coast of Gotland. At first we are going at a good rate, fair wind from the south and little need for tacking. But as we proceed to sail southwest bound the wind turns to the southwest also and we have to tack back and forth. We are just outside Visby harbour at 1400 hours and decide to go into port at Visby. It is rather quiet in the harbour this time, a lot different from when the captain was here before. A very nice young man helped us to moor and gave us clear directions. We go into town and have a good meal and wander about a bit more. A beautiful city this is.
Visby to Grönhögen Öland
We sail from Visby and have given up on our plans to sail directly to the southern tip of the island Gotland and then to Poland from there. The wind is just not helping us in that respect. We have changed our plans to try sailing to the southern tip of the island &Oulm,land, and from there to Bornholm instead.
At 9 AM on Wednesday August 9, we leave port at Visby and sail southwest by west in a very high sea, waves are breaking now and then and higher than 3 meters. As time progresses the wind settles a bit (less uneven) and the waves become more pleasant. In the early morning of Thurdsy August 10 we sight Ölands coast in a fog. All of a sudden we pass a dinghy turned upside down in the sea. Scary! Monica is sleeping, but after a while I decide to waker her up and we discuss what to do. We agree we must notify Sweden Rescue. Captain calls Sweden Rescue and tells them about the position of the dinghy. After about 20 minutes a rescue helicopter swivels back and forth through the mist around the boat wreck. They do a fly over and disappear after searching for about half an hour. We continue south and get to Grönhögen late in the evening of Thursday, after dark. Lucky they have an excellent light line in the harbour entrance. We are almost out of electricity, but by using the starter battery as a backup, we make it into habour on all the necessary instrumentation. Time for a good rest.
Öland to Nexø Bornholm
Crossing from Grönhögen to Bornholms eastern coast takes us directly across the main deepwater route for all the baltic shipping. It is going to be a rat race across. Giving us the feeling as if we are trying to cross a major highway with a filled shopping cart. Sweaty experience. We are on the lookout all the time, and have to adjust our speed and direction continuously.