The Baltic Tour 2017
This summer SY Isabell sails Southward. We sail down to the islands of Gotland (SE), Bornholm (DK), to Polish coastal harbours, to Klaipeda (LT) and back to Stockholm. Follow us in the map below.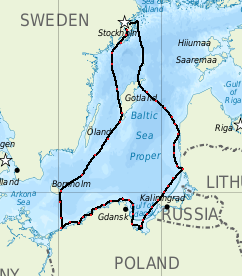 Preliminary harbours we will visit are Burgsvik on Gotland, then Svaneke and Nexø on Bornholms eastern coast, from there we sail to Poland, town of Kolobrzeg, on to Darlowo, then Ustka, Leba, Wladyslawowo, Hel, Gdynia, and Gdansk. Somewhere along the way we are meeting up with family who are out roaming the Polish coast with a camper. From Gdansk we will try and sail north by northeast to the port of Klaipeda in Lithuania. From there we either sail home via Gotland (Fårön) or via Latvian ports. We will see where the wind blows once we get there.